E - B O O K S
RAMBLINGS

OVER

RUMBLINGS

"Word-pictures" of the devastating earthquake in Gujarat (26 January 2001) "that capture significant scenes – like photographs in a family album – which are preserved for posterity.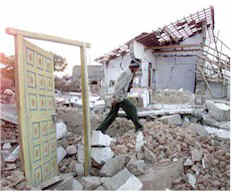 To view this document please contact the author by clicking on the following link:
hedwiglewis@hotmail.com
You will receive the E-Book zipped in MS WORD (42 pages)
NOTE: These word-pictures are not intended to evoke nostalgia but to inspire and motivate." They were published in three installments in February 2001:
1. "NASCENT DEW DROPS" : www.nascentdewdrops.com
2. "[nukkad] Earth Quake Story", in Mumbai Central http://www.mumbai-central.com/nukkad/feb2001/msg00083.html
GLIMPSES
PART ONE
Preamble
As an "armchair traveller" I traversed the highways and by-lanes of earthquake- ravaged Kutch, as well as other parts of Gujarat – from Bhuj, through Ahmedabad to Surat, via Television transmissions, telephonic talks, newspaper reports, and eyewitness accounts. My eyes get redder and my heart beats faster as the "scenes" appear deadlier each passing hour and day, from that Black Friday morning in late January. The rhythmic stomping of the Delhi Republic Day Parade has long since been drowned by the chaotic groans and moans of the injured and the bereaved.

There is no point in repeating horror stories of survivors of the killer-quake – for these are the 'talk of the town' in India and abroad. And it is too early yet to report the impact made in the field by thousands of generous-hearted and service- minded persons whom the "aftershocks" have catapulted into the affected areas. My heart goes out with them, since I am physically restrained. But, to keep in touch, as it were, I apply my mind to the task of recording the innumerable 'lessons' that this colossal disaster teaches me every single day.

The following are 'rambling' reflections of the past week since the quake struck. They are not presented in any particular order of events or of priority. The 'lessons' are listed randomly and each is supported by the incidents that triggered them.

PART TWO
Introduction
Gujarat, the land of Mahatma Gandhi, is inhabited by peace-loving and enterprising people. Gujaratis are credited the world over for their business acumen, and Ahmedabad in days gone by was acclaimed as the Manchester of India. The homely 'symbol' of Gujarati life, ironically, is the "swing" that is very much part of the furniture in most houses. Swings are installed in the courtyard, the foyer, the balconies and even living rooms. People spend time on them: knitting, reading, resting or chatting... swaying gently to cool their bodies and soothe their nerves.
On the morning of Republic Day, January 26, 2001, however, everyone in Gujarat was taken for a ride as the whole land trembled and swayed like a mighty swing. It was far from gentle. It turned ghastly. Everything was thrown out of balance – and the people most affected are yet to find their feet. Fortunately, over the weeks since the colossal disaster, thanks to the indomitable spirit of the survivors – and with a little or great push from fellow citizens, as well as 'neighbours' from the global village, things are beginning to swing back to normal. It is going to take a while, though, since hardly anyone is interested in returning to the past: enthusiasm is being built up for a "new Gujarat".
The earthquake experience, nevertheless, is entrenched in the memories of all those living in Gujarat, and will be remembered for generations to come as a historical event that changed the face of the land.
The following vignettes are intended to serve as word-pictures that capture significant scenes – like photographs in a family album – which are preserved for posterity. These word-pictures are not intended to evoke nostalgia but to inspire and motivate. They are grouped under three sections:
I. VIGNETTES

II. TWISTS AND TURNS

III. SNIPPETS
PART THREE
Introduction

Is natural calamity a blessing or a curse? Does it expose the wrath of God while it emphasizes the warmth of Love? Does the mind remain frozen with images of death and destruction? Or does the most hardened heart melt in compassion? ... These are only some of the conflicting questions that concern the conscientious citizens of battered and bruised Gujarat today.
But as the debris is disposed off, the corpses cremated, and the clouds of dust raised by the killer-quake of January 26 settles, the scenario begins to become more and more translucent. One gives up the numbers-game concerning victims of the disaster; one stops solving riddles about life and death. One only seeks to rise above the self and give the heart wings.
As a mediaperson reported: "Hope and renewal. If these didn't follow devastation, death would be replaced by despair – and that can be just as deadly. Almost four weeks after the earthquake, Gujarat is still coming to terms with what was and what is. But true grit has emerged from the rubble of past lives and shattered presents, as people who thought they had lost heart and those who discovered they had found one in the right place – even those who have no stake in Gujarat beyond the humane – have come together for solace and succour. More importantly, in tens of thousands all across the state, they are engaged in rebuilding futures." (S. Chakravarti, India Today)
Inspirational Stories For Person-Centered Living
Convivium Press, Miami, Florida
Persons are our Best Gifts, in brief, highlights the value of "Persons" and emphasizes "close encounters" with a variety of "personality types". Over and above personal reflection, this collection of inspiring and motivational stories-with-a-difference can be used as a powerful tool by parents, educators and animators for instruction and discussion. It is a handy resource and reference book for professionals, presenters, preachers and 'pen-persons'.
EBOOK
Available on NOOK devices and apps
NOOK Book (eBook, $9.99

Barnes & Noble
192 pp, 482 KB) on iPhone,
iPad, or iPod touch (Barnes & Noble, $ 9.99), (Amazon-Kindle, Rs 537.99)
iTunes.